Your skincare routine is likely to evolve over time as you customize it to your specific requirements. Because of the nature of time and gravity.The signs of aging; deep wrinkles, and loss of volume appear most glaringly in mid-life and beyond. Which is why many women over 50 want to revamp their above-neck regimens in quest of the finest skin care for women over 50.
We offer the skincare routine finest techniques and ways to build your arsenal for an ageless complexion, from the greatest approach to decrease the appearance of wrinkles to the most powerful brightening and resurfacing masks.
Gentle cleansing
Needless to say, frequent face washing is the foundation of the finest skincare for women over 50. Mature skin should be cleaned using a gentle, non-irritating cleanser that will not remove the skin's natural oils or aggravate dry or sensitive skin. Because dry skin is generally sensitive, it's better to use a cleanser that has decent barrier protection and skin-protective components like ceramides.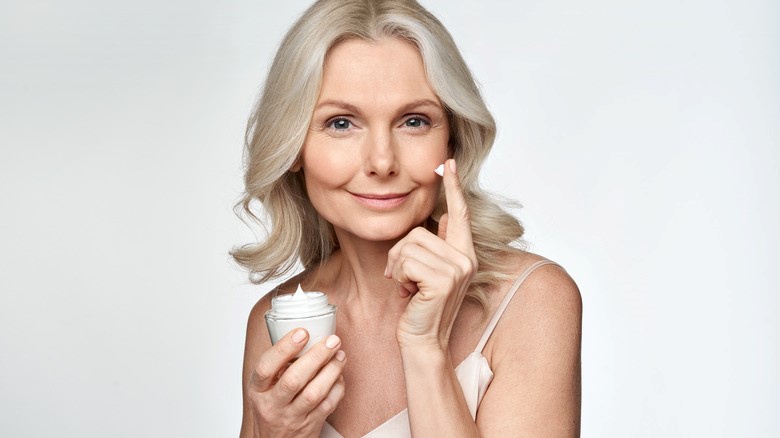 After removing your makeup with an oil cleanser, apply a cream cleanser, rinse with lukewarm water, and pat your face dry with a soft towel. After cleaning, apply a pH-controlling toner to assist maintain the skin's pH balance and add an additional layer of moisture.
Exfoliate but gently
When it comes to exfoliation, both physical (scrubs) and chemical (AHAs and BHAs) exfoliants can be used on older skin. But only with caution. The outer layer of skin on women over the age of 50 grows thinner and more fragile. To minimize irritation, keep physical exfoliation to a minimum.
Excessive exfoliation might create tiny rips on the skin. To properly remove dead skin cells, apply a mild scrub no more than three times per week. Followed by a calming elixir containing soothing components such as ceramide and chamomile.
Facial Massage
A regular facial massage is beneficial to the skin at any age, but it is especially beneficial to older complexions. It sculpts the face muscles and reduces fluid accumulation while also improving blood flow, cell turnover, tissue toning, and collagen formation.
Because women's collagen synthesis decreases dramatically after menopause, massage and shapes the facial muscles with your fingertips. Along the jawline and upward into the highs of the cheekbones, under-eye area, and across the forehead.
Extra Moisture Can Help You Restore Volume Loss
Beginning in your 30s and 40s, hyaluronic levels begin to decline, making fine lines and deep wrinkles more visible. When applied topically, hyaluronic acid can help replace and preserve cell hydration. Which is why it's such a frequent component in serums and moisturizers. Especially those aimed at older skin.
Serums have greater concentrations of substances than creams or lotions. Look for a moisturizer infused with elements that will help imitate and rebuild the skin barrier. As well as ceramides and a unique peptide complex to reduce irritation and decrease redness, to seal in a supercharged serum.