If you have hyperpigmentation, dry skin, dark spots, or sagging skin, finding the right vitamin C serums is definitely essential to you. Vitamin C is a powerful antioxidant that shields the skin from environmental factors including ozone and UV radiation. So, whether you use the serum in the morning, evening, or both, it's important that you follow it up with a sheet of wide spectrum sunscreen every day.
Avya Skincare Anti-Aging Power Serum
Deepika Vyas, MD co-founded Avya skincare with people of color's skin needs in mind. Their Anti-Aging Power Serum is a one-stop shop for strengthening the surface of the skin. It contains Avya's signature ingredients, including hyaluronic acid for hydration.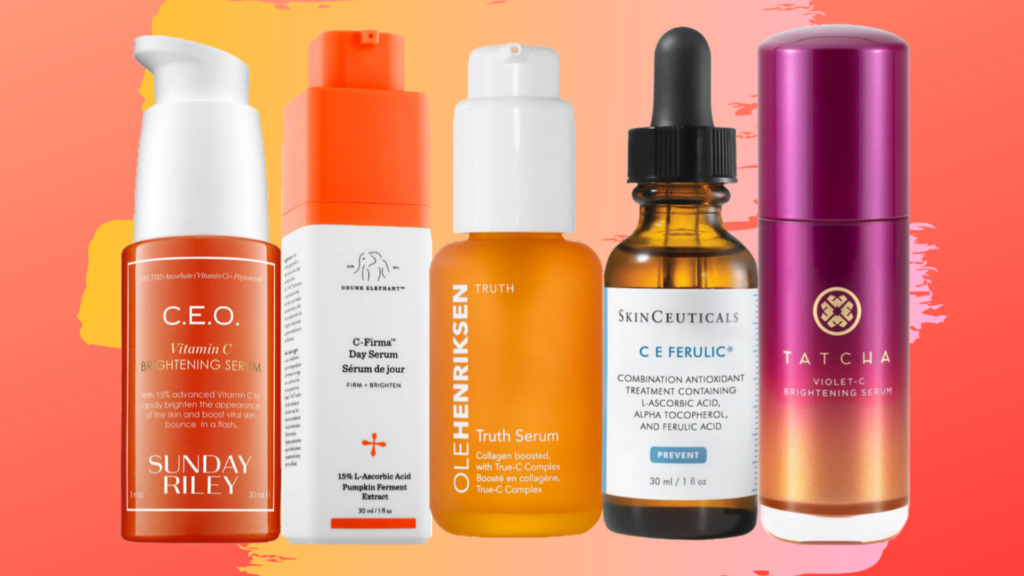 Beauty Stat Universal C Skin Refiner
This serum contains vitamin C in its purest form, thanks to a special proprietary combination of Stable 20% Pure Vitamin C and Stable, a skin-beneficial component contained in green tea. Along with squalane for moisture and tartaric acid to make the skin absorb substance more quickly, the two ingredients act well together to avoid signs of aging.
Drunk Elephant C-Firma Vitamin C Day Serum
This serum, which addresses fine lines and elasticity, contains fruit antioxidants that help firm and brighten the skin. This serum moisturizes lightly while still brightening dull spots and making skin look more smooth.
Kiehl's Powerful-Strength Line-Reducing Concentrate
This serum for irritated skin contains 12.5 percent Vitamin C as well as Hyaluronic Acid. All work together to reduce the visibility of wrinkles and fine lines while increasing radiance.
OleHenriksen Banana Bright Vitamin C Serum
This cream, which contains 15% vitamin C and hyaluronic acid, provides an immediate brightening, firming, and plumping boost while reducing dark spots, pores, and wrinkles.
Paula's Choice C15 Super Booster
This serum contains 15% pure vitamin C, which provides noticeably lighter skin on uneven tones. While simultaneously eradicating symptoms of aging.
The Inkey List Vitamin C Brightening Cream
This smooth, rich formula is best used first thing in the morning. It contains 30% L-ascorbic acid and encourages youthful-looking skin while defending against free radicals and ozone, resulting in lighter skin.