Moisture sandwich have been lauded by skincare enthusiasts for their ability to hydrate, brighten, and preserve your face, and if your curiosity has been piqued. We're here to tell you how you can incorporate them into your routine as well.
What is a moisture sandwich?
Dampening the face, adding a humectant-based cream, and then applying an occlusive balm is referred to as a moisture sandwich. It is intended to ensure that ample water enters the skin and that none escapes. When applying thinner, more watery liquids to wet skin and then layering something heavier, water is trapped for a prolonged period, resulting in more hydrated and bouncy skin.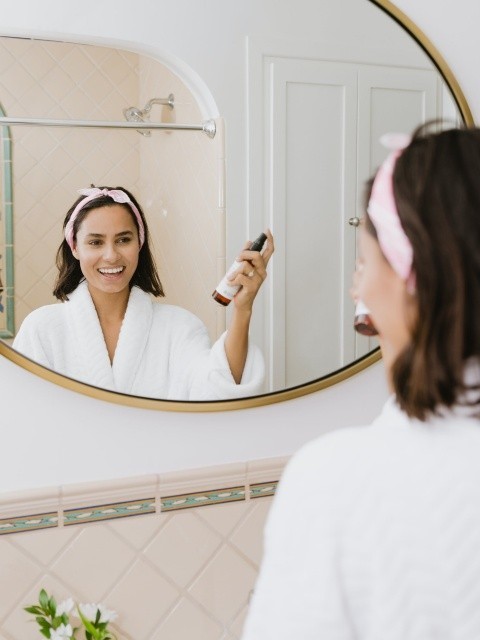 We like to start with a face mist and then follow with hyaluronic acid, sodium PCA, or glycerin serum to draw in all the goodness. Some people prefer to spritz a second layer on top, then add a moisturizer, followed by a balm or oil.
This even fits well on dried legs. Start with wet skin straight out of the tub, then add glycerin or hyaluronic acid-based cream, followed by a moisturizer and an oil to seal it all in.
If you have chapped lips? Wet your lips, and add a moisturizer next to the one you're using on the rest of your skin. Then, on top, add a thick coat of lip balm. By holding the water moist, you allow the moisturizer to absorb, and then you use a balm to avoid moisture loss, reducing flakiness and peeling in the process.
How do those who use active ingredients in their daily routine benefit from a moisture sandwich?
Some people use petroleum jelly as the occlusive phase in a technique known as slugging. This is effective for people with dry, dehydrated skin that is not susceptible to acne. If you have dry skin and congestion, you can avoid using petroleum jelly because it will clog your pores.
A conventional moisture sandwich can not work for those with acne-prone skin if you have to layer in ingredients. Like AHAs, Vitamin C, and niacinamide, which may not work on wet skin. Apply a moisturizer first, then a topical retinoid, and then another moisturizer coat. It is intended to alleviate irritation and dryness.