Mausummery Festive Eid Dresses are modern and classic shalwar kameez dresses for women that are specially launched for this Eid Ul Fitr check all the new prints below.
Mausummery is one of the trendiest clothing brand they have launched collection after some time unlike other brands who are launching it after every 3-4 weeks.
Mausummer is in Pakistan lawn industry from 17 years they have a huge fan following in Pakistan and Pakistanis living all over the world because of their trendy clothing patterns.
Mausummery Festive Eid Dresses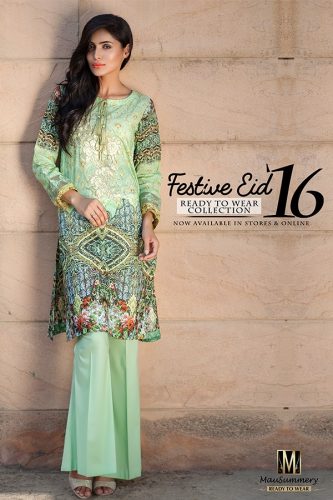 Just like for every special occasion Mausummery have launched beautiful prints with both modern and classic designs of shalwar kameez dresses.
This brand is famous for their prints and they have again launched something special that you will love to wear during the festive season.
As Ramadan is almost over now shopping of Eid is on full peak every one is buying new clothes for different occasions some are buying different dresses for casual home routine and some fancy patterns for events and parties.
Mausummery have launched mix of both some dresses are casual and some dresses are fancy so you don't have to go anywhere else and can shop at the same place under one roof where all varieties are available.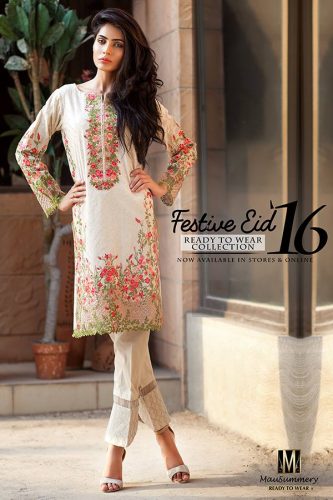 Eid Festive Dresses Details
Lawn Fabrics because of summer heat.
Embroidered work all over the dress unique art work on bottom area of the shirts.
Mid length shirts not too long not short.
Flare trousers only in some dresses classic trousers in other dresses with patch work.
3 Pcs dresses with chiffon duppata and chiffon work on sleeve area.
Light and pastel color shades will shine on you during the summer season.
Everything is done according to the latest trend by the designer team of Mausummery this collection is perfect for night and day events of Eid wear them on dinner parties or family meet ups Mausummery Festive Eid Dresses will cost you 5,495 rupees.
See More:-Edenrobe Eid Family Collection