Ayesha Ibrahim Eid Modern Dresses are mix of both traditional and modern dresses suitable for night parties and events of Eid and upcoming special occasions.
Ayesha Ibrahim have been working in the industry from 10 years now over the years she have launched many different types of modern and traditional dresses for every occasion.
Because of the festive season more trendy and luxury type of clothing have been launched like always Ayesha Ibrahim have launched her collection which have modern and traditional fusion dresses.
Ayesha Ibrahim Eid Modern Dresses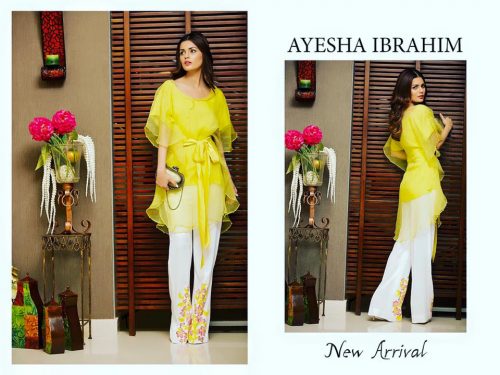 If you are a fan of fusion dresses which have modern designs and classic traditional touch on them then you are at the right place because we are going to show you one of the best dresses collection launched for this Eid Ul Fitr.
Dresses are creative and modern with light color shades that are eye catchy and will take any one's attention these are perfect dresses when you are getting ready for night event.
In traditional category modern 3 pcs shalwar kameez are available and in the modern category dresses like long side cut top with trouser,front ribbon top and many other forms that are created by keeping shalwar kameez and modern dresses in mind.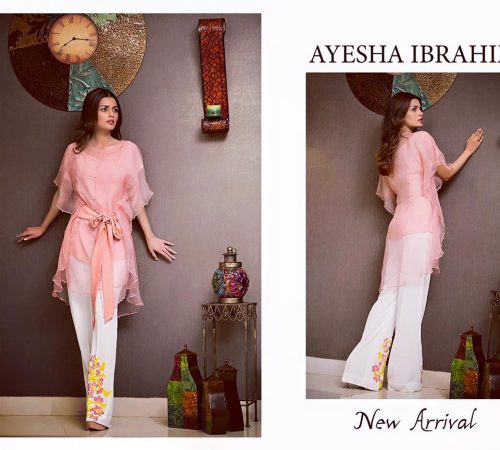 These dresses are more suitable for teens and younger girls because of designs and colors younger women will love these dress forms.Trousers of this collection are in unique designs too some have patchy work at the lower area have different lengths and cutting design.
Some dresses are bit more luxury and can be worn on the upcoming wedding season Ayesha Ibrahim have created something for everyone if you don't want to wear modern fancy dresses on Eid then you can choose 3 pcs shalwar kameez which are equally trendy and stylish.
Ayesha Ibrahim Eid Modern Dresses may not be available in every city so you need to contact the designer on her Facebook Page check all the designs below.
See More:-MariamRaj Luxury Modern Eid Dresses