We are going through a rough pat this year where everything has become quite uncertain. Sana Safinaz Eid Ul Azha Collection having to style ourselves with the best attires and jewelry is what most of us females are looking for and struggling for these days as Eid is also right around the corner.
Sana Safinaz has been long known for making luxury and elegant attires and is considered an expert brand in its field. It is surely the brand we trust with our last-minute outfit planning. This year again, Sana Safinaz has come up with the most beautiful and gorgeous Festive Luxury collection which is the most perfect fit for this season.
Be it at home wedding events, music night, or for the most-awaited Eid festival. The outfits they have released under this collection surely tick all the boxes for such events. From vibrant color to deep plum and blues to luxury gold. This collection has it all and it surely bound to make you look so elegant that you are going to steal the spotlight for sure.
Sana Safinaz Luxury Festive Eid Ul Azha Collection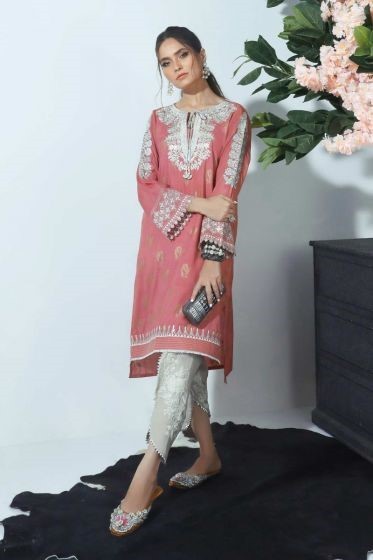 This pastel pink is the perfect color for the hot Eid this ye. As it will add style to your whole look while keeping you away from the effects of the hot sun. Moreover, the combination of this pink pastel color with white tulip shalwar and embroidery is just breathtaking. We are surely in love with the ethnic and traditional vibe. This outfit has got going on while keeping it all pretty simple and chic.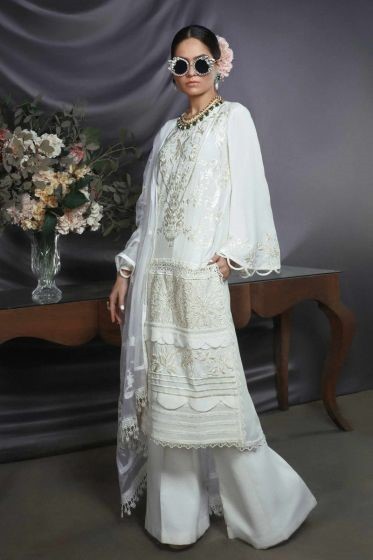 You can never go wrong with a simple white outfit and what a fabulous outfit this is. From the 3D petal effect on the front of the shirt to the semi-circular loops on the sleeves. Sana Safinaz surely knows how to make anything simple look extremely fashionable. Pair this outfit up with some silver jewelry and jhumkas and you will be bound to stand out and turn heads.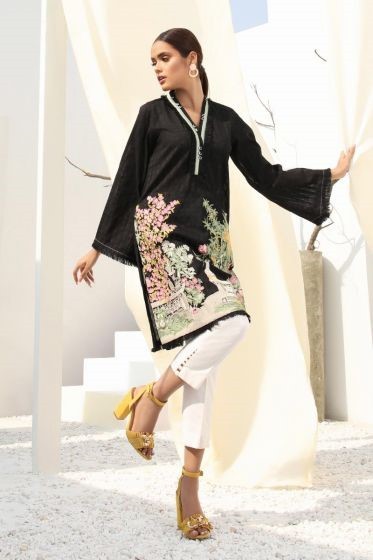 See More:- Sana Safinaz FPW Winter Collection 2017-18
This black outfit is for those of you who cannot get their hands off of anything dark no matter what the weather forecast outside tells you. This outfit gives you all the more reason to always choose a dark color and be the beautiful you. This beautiful black jacquard shirt has some pastel florals on the front which give an exotic and refreshing vibe to your overall look. Pair this up with a sleek ponytail and some popping heels and you will surely look chic.