Floral Kurti Festive Season Dresses are perfect for teens and younger women launched by one of the trendy kurti brand Ethnic by Outfitters lets explore all the designs.
Ethnic is the traditional sub brand of Outfitters which is more towards western clothing but their Ethnic brand is all about shalwar kameez and traditional dresses for women they have launched some kurti collections too this summer.
We all have celebrated our Eid Ul Fitr and now moving on towards Eid Ul Azha its the festive time of the year and you should wear those dresses which are perfect for these occasions and conditions.
Floral Kurti Festive Season Dresses
Recently brand have launched new kurti designs with floral art work which is basically core summer season art but you can wear in monsoon and autumn season too.
Its a 2 pc collection with different fabrics used mostly cotton and lawn to stay cool in the hot humid days you can wear these with other fancy accessories if you are going out on some special occasion.
You can wear these casually also when you have to go outside just for a day out wear heels while going out or some sandals there are many type of sandals available in the market you can choose the one which fits your foot and matches with these kurtis.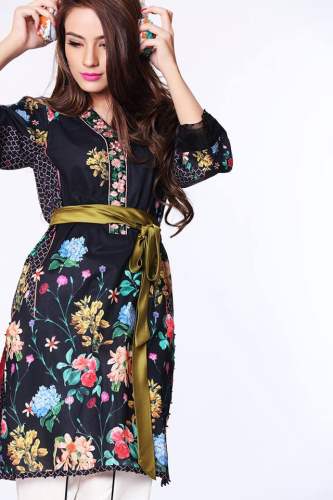 Length of the kurtis are much shorter this time its been the trend for whole summer all the brands have launched short length kurtis and these are even more shorter.
Kurtis are more fancy this time then their previous collection because these are launched for the festive season brand have designed them specially for this monsoon and festive occasions.
Floral Kurti Festive Season Dresses is must have if you are looking for pret comfortable dresses you can pair them with your favorite jeans/trousers/tights check out the designs below and find the perfect combination for your dressing.
See More:-Digital Printed Kurtis Monsoon Collection