Digital Printed Kurtis is another beautiful printed collection by Moon textiles launched for the monsoon season check out all the designs and see what's new for this season.
Moon textiles have launched two back to back collections both in beautiful colors and patterns just designs and patterns are different with fabrics.
Just some days back we have reviewed Barkha Crinkle Chiffon Summer Dresses which were in both digital prints and embroidered patterns but most of the designs were in 3 pcs dress format.Just recently Moon Textiles have launched another beautiful collection for the monsoon season which have trendy kurtis.
Digital Printed Kurtis Monsoon Collection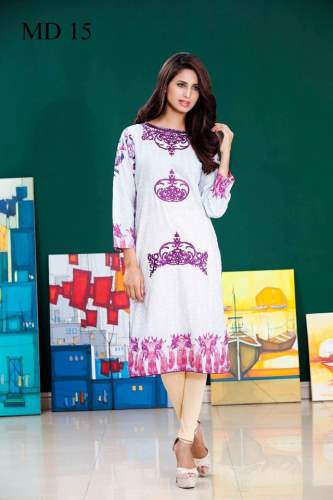 This monsoon season you will be seeing lots of kurtis from designers and brands because it will be bit more like spring and we all know spring and autumn have kurti clothing trends.Specially among teens they wear kurtis all year long but because of the season prints and fabrics will be changed in all collections.
In previous 3 pcs collection Moon textiles have used Crinkle and Chiffon fabrics they have used these two fabrics in these kurtis too but with mixed cotton also to maintain the comfortable nature of clothing because humid conditions feel more hotter then high temperature.
These kurtis have very eye catchy attractive colors which you can wear anywhere whether its a event or casual outing you can wear these kurtis with jeans,tights,capris,trousers lower part will depend on your choice brand have shown tights and trousers in plain designs.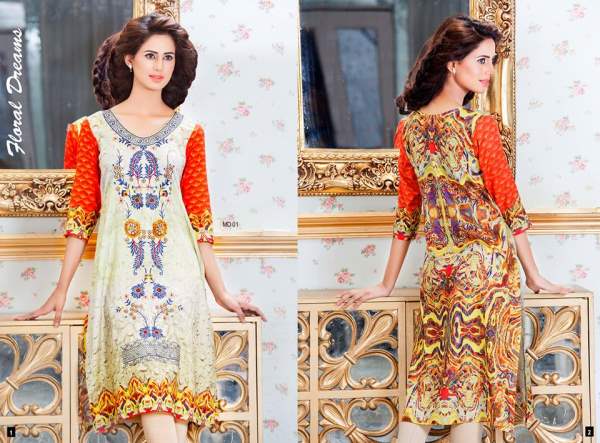 Embroidery and printed work can be seen on both front and back quality of the fabrics is much better then their previous launched collections.Length of the shirts are general these are not too long and not too short such type of dresses are suitable for almost any occasion just design patterns will matter.
Digital Printed Kurtis Monsoon Collection is available online and in outlets also if brand does not have any outlet in your city you must contact them via their Facebook page.
See More:-Gul Ahmed Latha Dresses