Natasha Couture Palazzo Suits are traditional casual and semi formal wear for the Indian women from the brand who is best at traditional designs Natasha Couture.
Its been long time since we shared some Indian fashion recently Natasha Couture have launched so many traditional party wear and casual dresses for the Indian women.
These dresses are perfect for summer and monsoon season all dresses are in colorful designs most of them are in plain color designs just a difference in lower shirt area where you can see some design work.
Natasha Couture Palazzo Suits  
Palazzo pants are western style fashion accessories that are worn in South Asian fashion in traditional way you can see the difference by yourself western clothing pieces are Palazzo pants and Indian designs are bit more shalwar/trouser type.
Length of the shirts are longer duppatas of this collection are also longer with different types of prints all duppatas are in net and thin form because of the summer season.
You can wear these dresses in your daily routine whether on work or while going to college/university if you wear them with more fancy accessories then you can wear these on any party that is around night time.
Choice of footwear will be totally on you if its a formal occasion and you want to look more taller then wear heels as we all know palazzo dresses makes legs more longer and heels will make them more longer.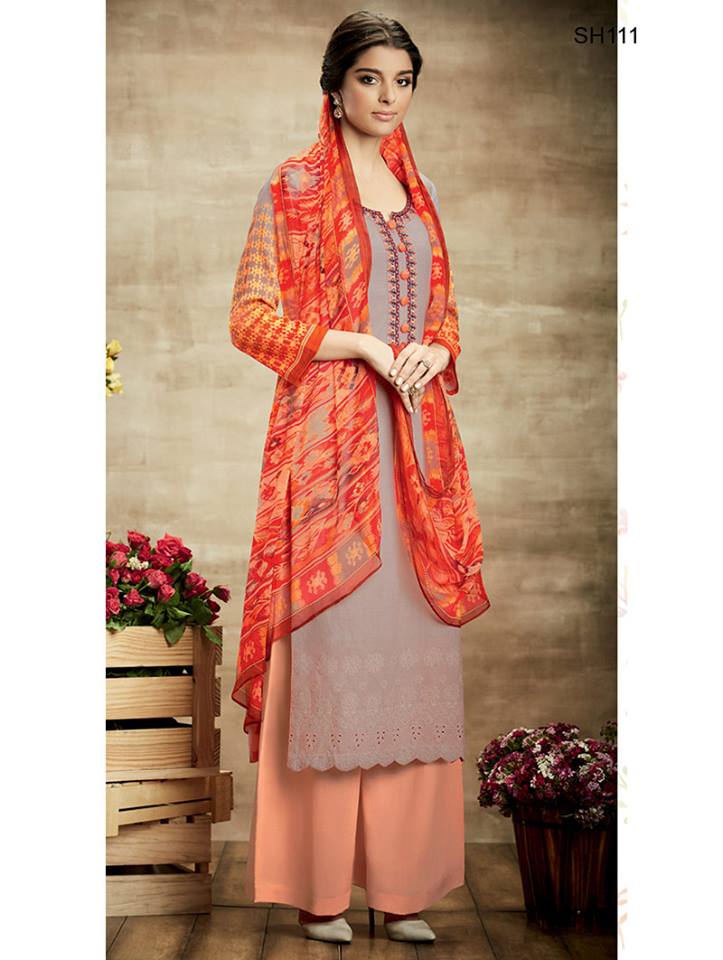 If you are going out casually then you can wear sandals of any type don't wear flats because it does not look good with long length dresses whether you are wearing for casual occasion flats will not match with these dresses.
Natasha Couture Palazzo Suits have been launched and available at all leading stores in India and outside where Indian fashion is famous so have a look at the designs and find your dress combination.
See More:-Natasha Kamal Evening Wear