Summer Eid Ul Fitr Luxury Lawn is formal shalwar kameez dresses launches by Rang Rasiya for young girls. They look chic and stylish during this festive season.
From past few weeks, we have been seeing luxury lawn shalwar kameez launched by different brands. They now as we are moving closer to the festive events like Ramadan and Eid brands will be now launching Eid ul Fitr collection.
Still there is a lot of time for your Eid shopping but brands like Rang Rasiya have launched their Eid ul Fitr collection early. So you can shop at the right time without the tension of choosing between so many dresses and could not decide which one to buy.
Summer Eid Ul Fitr Luxury Lawn "Carnation"
Eid Ul Fitr collections will all be in luxury styles but not all of them will be in lawn fabric. If you are a lawn lover then this collection will solve lot's of the problem of Eid shopping like what to choose and what to wear.
Although there will be plenty of collections available for Eid. But not all of them will be of eye catchy patterns but thanks to big textile brands we witness luxury Eid dresses of high quality every year.
Rang Rasiya is another brand from the land of textile industries Faisalabad. The designer team behind the brand wants to change your lifestyle and bring more colors into it by launching dresses like Carnation lawn. Which is available in beautiful prints and colors.
All these dresses are inspired by modern and traditional designs with a mix of both to produce something. That is according the latest trends of Pakistani fashion.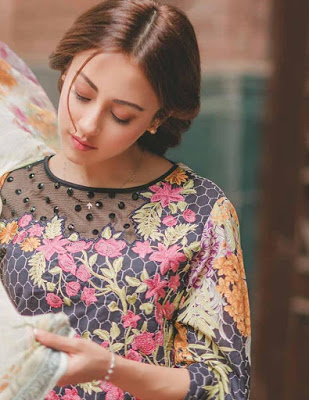 Because these dresses are for Eid Ul Fitr you will get quality designs with high-quality materials. Which will last for longer period of time and you can wear them on later events too.
3pcs Dresses
Dresses are in 3pcs in which you will get lawn kameez of beautiful prints with net and chiffon dupatta. Every clothing piece is in embroidered patterns of different types.
Carnation lawn is about enjoying the summer in beautiful colors and showing your fashion styles. In luxury style to others and feeling comfortable also because that's the main priority of summer dresses.
To make dresses comfortable and easy to wear brands are using lawn fabrics which were preferred to be a casual dress fabric. But from past few weeks, we are witnessing the formal and luxury type of lawns.
Every dress is different which you can wear on later events like a wedding party or on any social gathering have a look at the Summer Eid Ul Fitr Luxury Lawn "Carnation" designs below and find the dress of your type.
See More:-Veena Durrani Modern Summer Tunics