Veena Durrani Modern Summer Tunics are one of the classic modern traditional tops. That you should wear this summer and enjoy the season with stylish outfits.
This season we are seeing tons of traditional luxury outfits most of them are on the lawn because of the comfortable nature of the fabric. Like all big brands, a new designer like Veena Durrani has also launched her luxury tunics for the summer season.
We have shown you her previous volume of summer tunics that was volume 4 and this is volume 5 which again launched by Zohan textiles.
Veena Durrani Modern Summer Tunics
Tunics are more seen during the summer time because young girls prefer kurtis and tunics over complete shalwar kameez dresses. Although shalwar kameez dresses are also sold more than any other dress. During the summer time but Kurtis and tunics take the lead in the casual category for the young girls.
But as now awareness of luxury dresses is increasing every brand is somehow producing something into the luxury category. Now tunics are also in-formal and luxury designs which you can wear on special occasions or on the festive events.
Festive events are not far by they are just around the corner and for each day of Ramadan. You may need a special dress because you might don't know who enters your house just at the Aftaar time.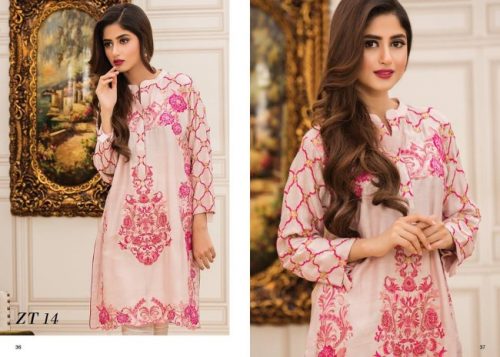 Some will enjoy Aftaar party and some will enjoy shopping on the nights of Ramadan for all these situations you may need a special occasion dress which is not so fancy and not so simple and designs launched by Veena Durrani in her Veena Durrani Modern Summer Tunics Collection are perfect for everything that is coming up.
Dress colors are light and dark both with light embroidery and prints and all dresses are in soft fabrics making you feel comfortable while wearing these outfits.