Digital Printed Spring Kurtis Collection was launched recently by Threadz brand for young girls to wear in spring/summer casual and formal times.
Digital Printed Spring Kurtis Collection is yet another beautiful colored printed dresses for women by Threadz brand these kind of designs have already been designed by brand before.If you have seen Threadz previous collections then you must know about design and printed quality this brand can do on dresses.
Digital printed kurtis can be worn with any type of jeans or tights you like but it should be matching.As we have told you in previous posts that spring will be the season of kurtis we have shared quite lot collections on this dress form.
This is worn all over the year in winter warm fabrics are used to produce this kind of shirt.In spring and summer light weight and cooler fabrics are used but the design will remain the same every brand have its own type of unique designs for their kurtis.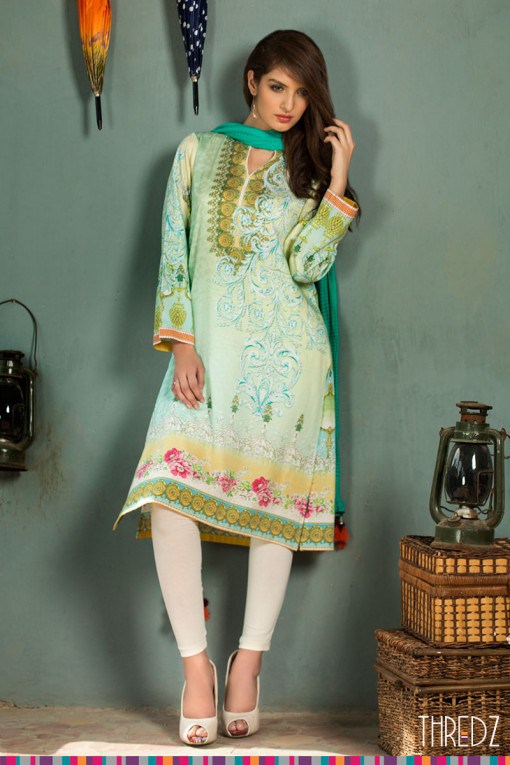 This collection is available in both 2 piece and 3 piece the prices will vary because of one lesser item in 2 piece forms.Beautiful colors like blue,white,grey,pink and combinations of these colors are used on the kurtis prints that are done digitally.
These are ready made dresses that means you don't have to do anything with the dress just buy the one which is according to your size and you are ready to go.If you are going on some special events then wear high heel shoes if you are going on your daily routine then wear flat shoes.
Threadz have launched so many collection between this winter and spring time and then moving to summer.There are lots of brand's in Pakistan which are common in general public whose collections are available all seasons.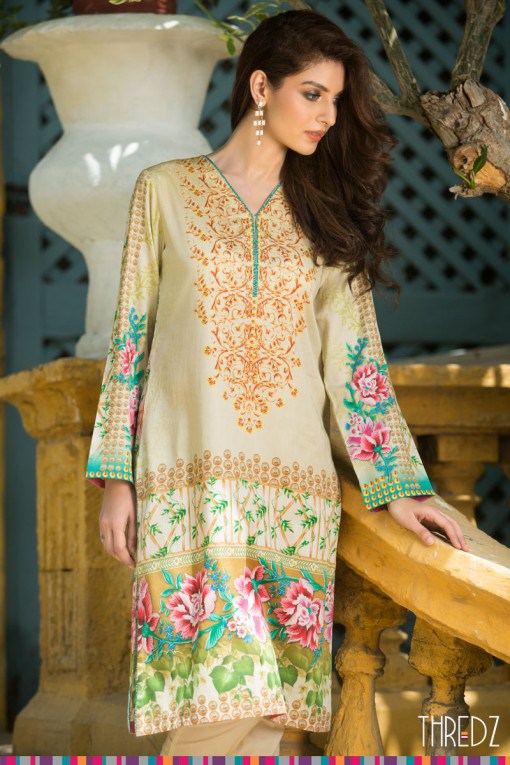 Some brand's design event wise and occasionally the pret and ready made dresses by Threadz are always in beautiful designs lets check some of them in Digital Printed Spring Kurtis Collection images.
See More:-Spring Tunics Threadz Motifz Collection