Khaadi Lawn Sun Bleached Neutrals Summer Collection are unstitched shalwar kameez dresses with organza patti and swarovski buttons making you more stylish in summer.
Summer is about wearing fresh colors and different shades of dresses in Pakistan women will wear shalwar kameez dresses fabricated in lawn fabric with beautiful prints.Summer clothing is all about prints because in winter you will wear sweater or jacket and prints are hidden from the person who is seeing you.
But in summer you can wear different types of printed dresses and show your style to the world.Khaadi have launched so many different printed dresses that you can wear each dress throughout the summer season daily without repeating a dress.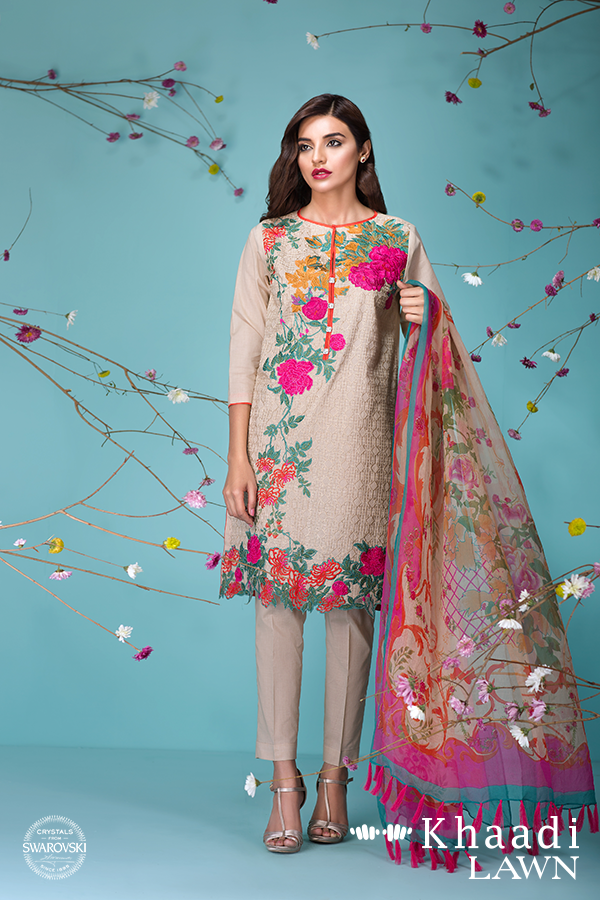 In every collection they have launched consists different embroidered and printed worked shalwar kameez dresses that can be worn on different occasions.These are launched as casual wearing dresses but prints are so stylish that you can wear anywhere you go out in the summer.
Khaadi have launched its summer lawn fabrics in different categories and prints we have already shared Bold Impressions and Venetian laces collection and now we are sharing Sun bleached neutrals prints.
Which are different from both of other prints you have seen because this collection have organza patti with swarovski buttons making these dresses more stylish and elegant for the summer season.Khaadi have used swarovski buttons in venetian laces collection but it does not have organza patti.
That's why this collection is bit different from the previously two we have shown you.Other qualities are same you will get unstitched dresses that you have to stitch according to your size and needs.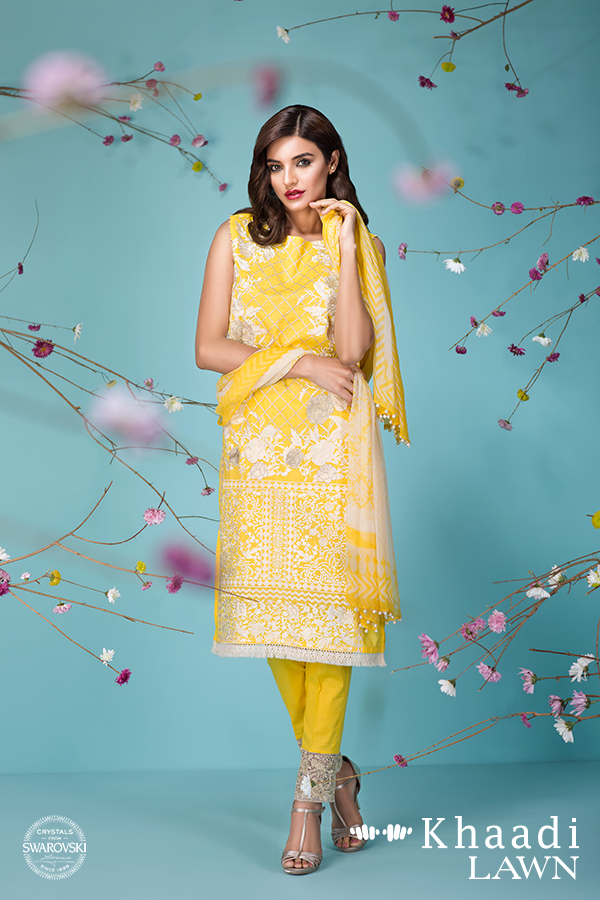 You can wear these dresses anywhere you like wear it as casual dress or wear them as formal wear dress because these prints can be worn formally and on special occasions.Check all the prints from Khaadi Lawn Sun Bleached Neutrals Summer Collection and wait for 27 Feb 2016 when these dresses will be hitting the market.
Khaadi Lawn Sun Bleached Neutrals Summer Collection Pix