ECS Summer Casual Eid Shoes are all in traditional designs making you feel comfortable and stylish. At the same time have a look at some of the designs that are launches by the brand.
ECS is one of the oldest footwear brands in Pakistan first official store of ECS shoes was establish in Anarkali Lahore 1954. It becomes common household name because of its comfort, durable and stylish designs.
Now it's the fourth generation of ECS customers. They are providing the same quality and look what they promised years before. Their main product is casual chappal which everyone wears in the home or casually while going out.
ECS Summer Casual Eid Shoes
During the summer time, a woman prefers soft slippers and chappals. That are easy and comfortable to wear in the sunlight. Summer is extremely hot especially in the southern part of Pakistan. That's why soft footwear is prefers over other footwear types.
ECS brand is not much focusing on their marketing strategy like other brands are doing launching collections and spreading the word of what they have launched. But ECS shoes stick to their basics just some collections got notice which they show on social media.
Some collections got unnoticed because they are not marketed well. That's why if you ever want to view their latest designs visit their outlets.
On Eid days even while staying in home girls will like to wear traditional footwear. Because guests will be visiting your home so you need to be ready in a stylish manner.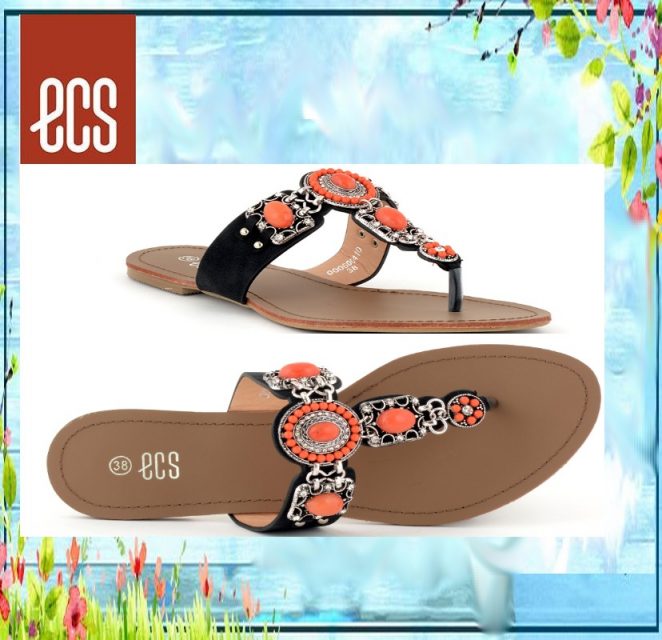 Traditionally "khussa' is the most chosen vintage style footwear. But there are some modern traditional chappal designs which ECS is kept launching from many years.
Chappals Design And Colors
These chappals are available in different colors and designs mostly. You will see embroidered type of prints on this traditional footwear collection.
Some chappals are embellished with different types of embellishments. Which will make you chic on any day and can be matches easily with your Eid dresses.
Pink, neon and reddish type colors are mostly seen throughout the ECS Summer Casual Eid Shoes collection to make them more feminine.
The price range of these sandals and chappals are from 1000 to 3000 rupees each shoe have its own price because of its quality and design. The exotic type of designs that can be worn on formal occasions will cost you much more than casual shoes because of its designs.
This Eid ECS is bringing retro style vintage fashion inspired footwear collection which can be worn for a later period of time till the winter season. Check out all the designs from the below gallery if you want to buy these shoes visit official web of ECS brand.
See More:-Metro Shoes Eid Footwear