Summer Formal Colorful Dresses are new printed summer designs for young women launched by Generation brand for this summer season. That can be worn on formal occasions.
Generation is working in Pakistan fashion industry from 1983 they have names their brand Generation to target the young women of Pakistan. Their designs reflect the modern era with some vintage work. Their dresses are always in high quality and they have shown us numerous different designs over the years.
During the spring/summer time, the brand is more focused towards kurtis and tops. That are ready made dress forms and can be worn in a lot of different ways. But this year the brand have chosen new approach they have launched printed long maxi dresses with other modern dress forms.
Summer Formal Colorful Dresses 
This collection is based on floral type prints which are the trend of spring/summer season for some time now. You will be seeing lot's of floral patterns in coming months from all the brands. But every brand uses it in their own way.
Brands Signature Designs
Some brands have signature designs and some have random design work available in both digital and hand work. This collection includes modern dress forms like jumpsuits, short tops with jeans, long kaftan type dresses, maxi dresses in colors like mustard, dark green, yellow and midnight blue.
Each color is available in printed work combines with other natural colors and textures that women need to wear during the summer season. As we mentioned earlier this is a colorful collection. So you will be seeing fresh colors and patterns that are usually seen during the spring and summer time.
Each color is bringing new life in your style spring and summer time is for fresh colors and wearing different designs of clothing. Fabrics are soft because of summer. As we all know there are some areas in Pakistan that will be in extreme hot temperature so that's why only soft fabrics are worn.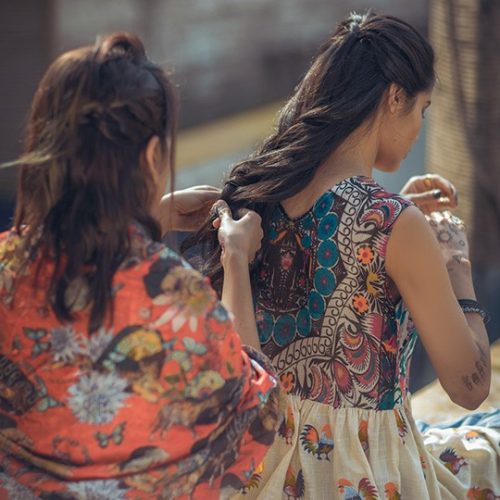 Generation brand has not launched collections during the winter season but in summer. You will be seeing some eye catchy print dresses like Summer Formal Colorful Dresses as you can see from the photos.
Generation Summer Casual Wear
If you want to check Generation previously launched summer collection then have a look at Generation Summer Casual Wear . Which was for casual wearing. But this particular collection is for formal events it can be anything like a social gathering or your college event.
Wear these Summer Formal Colorful Dresses and show your style statement. These dresses will look more special if you wear them with fancy accessories. If it's a night event wear heels there are plenty of fancy heels available. You can choose a black color design to match with these dresses.
This collection is available online also you can buy these from Generation Website as a new arrival prices are also mentions see which one fits your budget. But you don't have to worry about the budget. Because Generation dresses are always in reasonable price tags.
So what are you waiting for have a look at the Summer Formal Colorful Dresses pictures and choose. Which one catches your attention and then buy from the brand's official website.