Modern Woman Eid Dresses are for teen girls who likes to try modern dresses. That have some traditional touch in them these dresses are designed by Sofia Naveed Lari.
Woman demands traditional dresses on Eid. That's why almost every brand is producing traditional shalwar kameez and traditional dress forms to make your Eid dressing special. But some young girls have different fashion taste. They like to wear modern dresses for them, designer, like Sofia Naveed have designed the Modern Woman Eid Dresses collection.
Sofia Naveed started designing dresses since her college days for her friends and family. It was a hobby which later becomes a career in which she has got a lot of success. According to Sobia clothes speaks volume of one's personality and designs, colors supports it.
Modern Woman Eid Dresses
Each clothing piece of this collection is unique and designed in a modern way. Which as a young girl you will love to wear on special occasions like Eid. It is based on modern dress patterns but has some kind of traditional clothing pieces which are inspired by vintage fashion.
These dresses will make your Eid dressing more special in a modern way when you will be going out for parties with friends and family.Modern Woman Eid Dresses not only meant to be worn on Eid these are long lasting dresses and can be easily worn on events later this year.
Some designs can be worn on wedding events also because of the versatility in designs entire collection have unique dress designs and patterns each dress has its own story to tell.By wearing these dresses you can show your modern side to the world.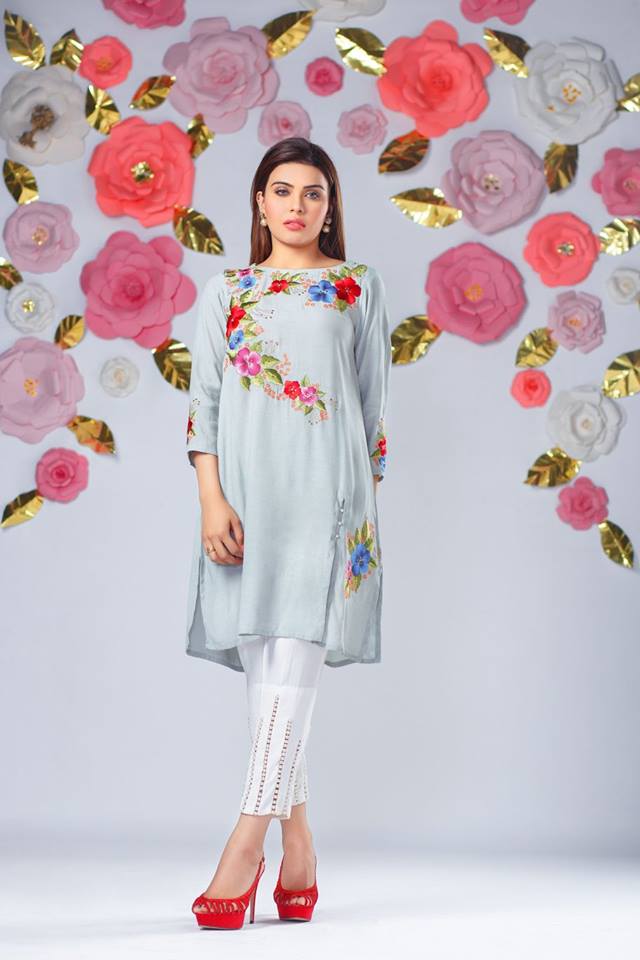 Modern Woman Eid Dresses will work great with your Eid heels and sandals and in the normal casual days, you can use any footwear you like.Yes! you can wear one of the dresses on casual occasions but fashionvilas.com team prefers you to wear these on special occasions only.
Dress designs included are:
Net loose shirt with grara style pants
Kurti style tops with flared trousers
Floral printed kurtis
Bell bottom style trousers with kurtis
Modern Woman Eid Dresses are available in soft comfy fabrics that will make you feel comfortable during the hot sunny days.Have a look at the gallery below and find your favorite dress that you can wear casually and formally these dresses are available on stores having Sofia Naveed collections.
See More:-Cross Stitch Modern Eid Lawn