Al Zohaib Summer Embroidered Lawn are low-cost high-quality summer dresses for the women of Pakistan. Let's have a look at the designs that are launches for this summer.
Al Zohaib is one of the biggest textile industries in Pakistan every season. They have some new type prints and designs for the women of Pakistan. Mostly they target younger girls but older women can also wear their dresses. Which are launches for the summer season.
There will be many volumes for summer lawn because Al Zohaib has some sub-brands and sub-collections that are worth looking. Al Zohaib is one of the top brands so dresses launches by them are always in eye catchy attractive designs that are trendsetters.
Al Zohaib summer lawn's are available in both stitches and unstitches forms and all will be at low prices. Which are in reach of every common working women.
Al Zohaib Summer Embroidered Lawn Collection
Recently Al Zohaib has launched their first summer lawn for the season. All the dresses are in stylish modern designs that you can wear on casual and semi-formal occasions. Casual occasions may not require much styling because most of the style will be provided to you by the dress.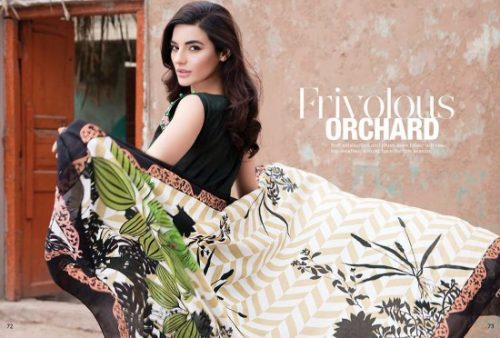 But if you want to wear these summer lawn dresses for formal occasions then you will have to add more accessories to your style statement. It can be in the form of extra jewelry or anything you like that will make you look special from others.
Dress Designs
Dress designs are simple yet modern too you will see both full sleeves and sleeveless shirts so choices are more available in dress forms.3 piece dresses are in printed forms with beautiful embroidered work in different cuttings most of the designs are modern.
The fabric is lawn which is the most comfortable fabric that is worn around the summer season. You will see markets full of summer lawn's from top brands and some locally made stuff too.
There are some local lawn's available but that will be off lower quality we would suggest you should always go for branded lawns. Because brand's like Al Zohaib have lower prices and higher quality in design this collection is available at different prices.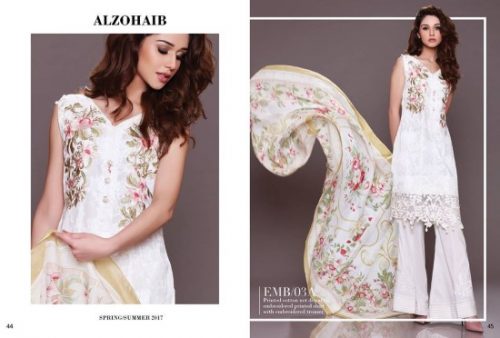 Starting range of price is around 3,500 rupees which are lower than most of the brand's available in the market today. If you want to buy high-quality stuff at low prices than always go for the textile brands. Because of their own clothing stuff they will only charge for the design.
There are some good designer labels available in the market's but they will charge extra because of clothing cost that they have to buy first. Textile brand's don't add clothing cost. Because it's their own production so if you are looking to buy affordable price range dresses. Than it's always best to buy textile branded clothing.
Floral Embroidered Prints
Floral embroidered patterns are the main key of summer styling in Pakistan every brand's collection starting from the spring season to summer. It will have floral prints. But floral prints will change between spring to summer and there are vast designs available in them too.
As you can see in this Al Zohaib Summer Embroidered Lawn Collection different types of floral embroidered prints are available in beautiful colors and designs.So let's have a sneak peak of some of the dresses launched in this amazing collection.
See More:-Summer Formal Colorful Dresses